I'll have a Tonic please!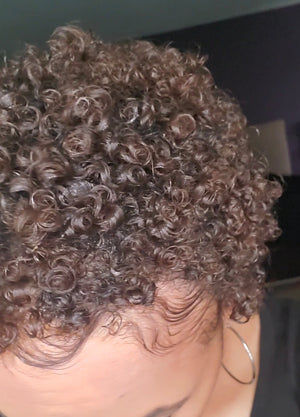 If you are looking for a product that is natural with herbs and oils, multi use, easy to use, and a light spray, this is it. Herbs & Oils Haircare Essentials Tonic spray has done wonders with my hair. After doing a big chop on my hair and using the product daily whether I have a protective style or wash n go, it has brought life to my hair. My hair looks healthy, it shines, it is stronger, and when it dries there is no frizz. I am able to feel confident with my new big chop and show off these beautiful curls that this Tonic spray is enhancing. I naturally have very thin and fine hair so it always has been hard for me to find a product that does not weigh down my hair. This product is a 360 degree spray so it's easy for me to use and at the end of the day my curls are soft with a bounce, defined, and a shine that shows my beautiful hair color.


Thin and fine hair tips
Thin and fine hair can be super stressful because you always would want that fuller look. With that type of hair it's very fragile so you can not do that much manipulation to your hair so it will not break off. So keeping your hair healthy is very vital. Deep conditioning, hair masks, hair oils, and herbs is a must have for your thin and fine hair. But sometimes what we struggle with is the styling. We have to worry about what will not weigh down our hair or what protective hair style won't take away our edges so easily. So here are two main tips to help the health of your hair shine through:

Consistent routine for your hair
Staying consistent with your hair routine will definitely make a difference with how your hair grows and just the overall health of your hair. Make sure you have a wash day, Deep conditioning day, hair mask day, and the daily use of Tonic spray. With thin and fine hair you can have a deep condition once a week or every two weeks,hair mask once a month,wash day once a week, and the daily use of the Tonic spray to keep your hair moisturize while providing the much needed nutrients for your hair and scalp.

Less manipulation the better
Less is better for all natural hair especially thin and fine hair. Twists out and braid outs is amazing because it's not straining or pulling your hair too much. Try to stay away from rubber bands or just don't use it too often or make it too tight. Updos are ok just not all the time. When its bedtime let your hair breathe if it is not in a protective style. Heat is very hard on thin and fine hair also, so try to not put direct heat on the hair. The Tonic spray from Herbs & Oils Haircare Essentials can act as an heat protectant spray as well if you do want to put heat on the hair.


2 Responses
Leave a comment
Comments will be approved before showing up.